Women's Author Series #1 - Alene Lorraine Burnett-Reaugh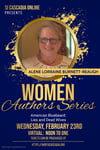 Alene Lorraine Burnett-Reaugh: American Bluebeard: Lies and Dead Wives
Wed. February 23, noon to 1 PST
Alene was born in Tacoma and grew up in Bellevue, Washington. She studied psychology at the University of Washington nights while working full-time as a claim's investigator, a career spanning 40 years until she retired in 2013. She now lives in Toledo on the Oregon Coast.
Alene has a personal stake in telling this story. Her grandmother Lorraine's Cornish aunt, Beatrice Maud Roscorla Andrewartha, disappeared in 1919 shortly after marrying a man she met on a train.
The scandal of murder was a smudge on the respectfulness of the family, so it became a family secret. After twenty years of research, Alene exposes this secret and lays the story to rest. This is Alene's first book.
Alene's book is available on her website, Alene Burnett-Reaugh.
Add all 3 Author's Series events to your shopping cart and receive a $5 discount by using code AUTHORPASS!